Iran's Foreign Minister, Hossein Amir-Abdollahian, expressed his country's support for Lebanon's prosperity and called for the acceleration of the presidential election as part of the country's political process.
Speaking at a joint press conference with his Lebanese counterpart, Amir-Abdollahian urged foreign parties not to interfere in Lebanon's internal affairs and pledged support for any agreement reached by Lebanese parties.
The two officials also discussed the implementation of joint agreements and the strengthening of ties between the two countries in various fields, including commerce, tourism, and technology.
Lebanese Foreign Minister, Abdallah Rashid Bouhabib, also hailed the recent agreement between Iran and Saudi Arabia, calling it in the interest of Lebanon.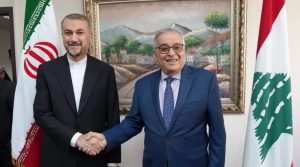 Amir-Abdollahian also met Lebanese Prime Minister, Najib Mikati, at the Grand Serail, in the presence of Iran's Ambassador to Lebanon, Mojtaba Amani, and an accompanying delegation.
Discussions reportedly touched on the current situation in Lebanon and the region, as well as the bilateral Lebanese-Iranian relations.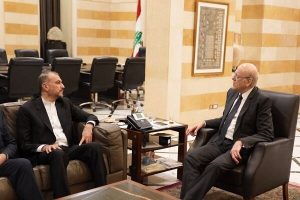 Iranian Officials Discuss Economic Relations and Regional Issues During Visit to Lebanon
Amir-Abdollahian, arrived in Lebanon on Wednesday for an official two-day visit aimed at consolidating the two countries' economic ties.
Upon his arrival at Beirut International Airport, Amir-Abdollahian reassured the Lebanese government of Iran's commitment to maintaining Lebanon's security, describing it as equal to that of Iran.
Amir-Abdollahian held talks with senior Lebanese officials including Parliament Speaker, Nabih Berri. Discussions centered on strengthening economic relations and cooperation in the energy sector. The delegation also discussed regional concerns such as the recent agreement between Iran and Saudi Arabia, the situation in Palestine, as well as the latest developments in Ukraine, Afghanistan, Sudan, and Libya.
Prior to visiting Lebanon, Amir-Abdollahian was in Oman, where he held high-level talks with officials aimed at strengthening cooperation between Iran and the Arab country. The Iranian diplomat's visit to Oman and Lebanon comes amid increasing regional tensions and ongoing negotiations over Iran's nuclear program.
Source: Agencies