Marwa Haidar
Hezbollah staged on Sunday large-scale wargames that displayed its arsenal, raising eyebrows in Tel Aviv over messages the Lebanese resistance party conveyed via the exercise.
The maneuver, attended by more than 200 Lebanese and foreign reporters, was held in Kasarat Al-Oroush, a military post that was run by Israeli occupation forces in south Lebanon before the liberation in May 2000.
The drill included several exercises simulating Hezbollah attacks on Israeli military outposts. It deployed snipers, drones, motorbikes, armored vehicles, rocket launchers, mortar artillery, and anti-aircraft weapons.
Journalists described the event as "unprecedented and unparalleled" in Hezbollah's history, with many noting that it was "just a sliver of its full arsenal".
But what about messages behind such a show of force Hezbollah held on the twenty third anniversary of south Lebanon's liberation?
"Personal Defense"
With the call of "O Sahib Zaman", referring to Imam Mahdi A.S., the drill started showcasing muscle-bound Hezbollah fighters in the "Personal Defense Parade."
Other fighters then leapt onto fast moving dirt-bikes while wielding rifles in the "Motorcycles Parade".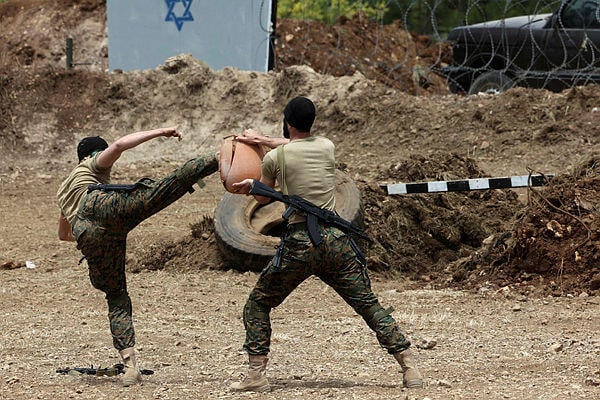 Ostensibly, such parades could be seen as a part of the so-called "psychological warfare" adopted by Hezbollah. However, it truly signifies the military prowess of the Lebanese resistance's well-trained fighters who accumulated expertise and developed military skills throughout more than 40 years, especially in the last ten years during the Syrian war.
Such expertise rings bells in Tel Aviv, whose soldiers are still receiving psychological support over distress they had been through during their service in south Lebanon before the liberation in 2000.
Message to the Friends
In addition to its explicit address to the Israeli enemy, Sunday's maneuver conveyed a resounding message to allies and friends alike.
This unequivocal message boldly declares: "The strength of the resistance is formidable, capable of safeguarding your nation from any reckless Israeli folly. Rest assured, you can place your trust in it."
Furthermore, the display of unwavering strength during Sunday's maneuver served as a resolute reminder to regional and international actors that the resistance's capabilities extend far beyond mere defensive measures. It showcased a readiness to confront any aggression or encroachment upon the rights and sovereignty of the Lebanese people.
🔴🇱🇧🎥 Unleashing Unbeatable Power: Video scenes demonstrated the exceptional advance level combat capabilities of #Hezbollah fighters, establishing their resilience & unbeatable nature.#عيد_المقاومه_والتحرير#القدس #حزب_اللہ #نصرالله #جنوب_لبنان https://t.co/NznukjtwlP pic.twitter.com/qr8iGhx6yH

— Haidar Akarar  (@HaidarAkarar) May 21, 2023
"Dangerous" Explosive-Laden Drones
Few hours after Hezbollah dispatched a drone into Karish in July 2022, during tensions that preceded the maritime border, Israeli officials voiced concern at time that "Hezbollah could send an explosive-laden drones in the next time."
Following Sunday's maneuver, the Israelis became certain that this "next time" could be imminent, as Hezbollah showcased explosive-laden UAVs.
"Oh Zionists, we are coming to you, from places you know and places you don't," declared a member of Hezbollah through a microphone, as a suicide drone struck and obliterated a potential Israeli target in the presence of a crowd comprising hundreds of attendees during the wargames.
Lebanon Hezbollah drone use in drills https://t.co/YFa9E8rZxK

— AVSEC Pro (@avsec_pro) May 21, 2023
Invasion of Galilee
Since Hezbollah Secretary General Sayyed Hasan Nasrallah promised the Israelis with the "great surprise" in 2007, the Zionist entity have been speculating that it would mean the invasion of the Galilee.
Yesterday, the Lebanese resistance party said it frankly, with an exercise that simulated an offensive on an Israeli settlement. A Hezbollah fighter, speaking into a microphone during the maneuver, declared with conviction, : "The targeted settlement will face complete destruction through the utilization of appropriate weaponry."
Such spectacle was wrapped up with a significant move, as a Hezbollah fighter courageously took down the Israeli flag and proudly raised the flag of Hezbollah in its place, symbolizing their dominance over the depicted Israeli settlement.
"Union of Battlefields"  
Palestine was highly present in the wargames, with the slogan "We Will Cross", referring to potential Hezbollah infiltration into occupied territories of Palestine in any future confrontation with the Israeli enemy.
Meanwhile, Sunday's wargames were ended by a highly symbolic exercise, where dozens of Hezbollah fighters destroyed and crossed a wall which depicts that of the border between Lebanon and occupied Palestine.
Such exercise holds a very impressive message to the Zionist entity. It tells the Israeli occupiers that Palestine is within Hezbollah's reach, and that the Lebanese resistance fighters have been awaiting the orders of their leadership to cross into the occupied territories and engage in any battle to support the Palestinian resistance.
"We will come to you from the sea, from the air and from the land," the Hezbollah fighter said into the microphone, addressing the Zionist enemy in one of the most resonant messages, which also echoes Sayyed Nasrallah's promise to the Israelis: "Wait for the inconceivable!"
Source: Al-Manar English Website