A number of Palestinians were injured in clashes which erupted at Al-Aqsa Mosque as Zionist settlers stormed the holy site on Thursday.
Dozens of Zionist settlers stormed courtyards of Al-Aqsa, backed by occupation police, prompting clashes with Palestinian worshipers barricaded in the compound, Palestinian sources in Al-Quds reported.
Occupation police attacked a number of Palestinians, forcing to leave the courtyards of Al-Aqsa, the sources said.
Israeli occupation police then besieged some Palestinian worshipers in Al-Qibali prayer hall, and fired rubber bullets and tear gas at the, according to the sources.
Palestinian media reported that a group of Zionist raised the Israeli flag at one of Al-Aqsa Mosque's courtyards, and then were forced to leave the area after being confronted by Palestinians.
The clashes come as Zionist groups call on settlers to storm Al-Aqsa Mosque for the occasion of the so-called 'Israeli Independence Day'.
Palestinian Resistance movements repeatedly warned that Zionists' storming of Al-Aqsa could destabilize the situation, vowing full support to defend the holy site and Al-Quds against Israeli attacks.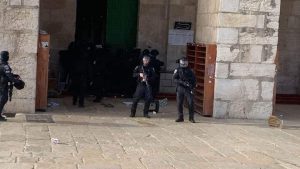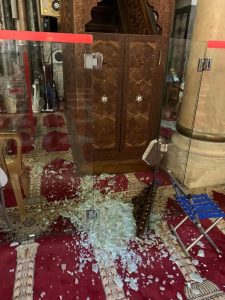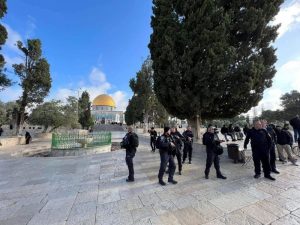 Source: Al-Manar English Website