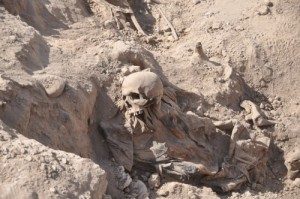 Iraqi authorities announced discovering a new mass grave containing the bodies of victims of the 2014 "Speicher massacre" by the ISIL terrorist group in Iraq's central city of Tikrit.
Zaid Ali Abbas, head of the Iraqi Health Ministry's forensics department, announced the step, noting that efforts were still ongoing to identify bodies of the martyrs through DNA tests.
In June 2014, ISIL terrorists — after overrunning much of northern and western of Iraq — reportedly killed more than 2,000 cadets and personnel at Saladin's Speicher military academy.
In video footage that purportedly shows the massacre, militants can be seen firing on their victims at close range before dumping their bodies into the Tigris River and into mass graves.
Last year, the Iraqi government announced it had unearthed the bodies of more than 1,000 massacre victims in the first series of graves to be found in Tikrit.
Source: Websites