Member of the Lebanese parliament Michel Moawwad, who is running presidency, boasted in a Tweet that he hosted a dinner in honor of German Federal Parliament member Alexander Lambsdorf despite the fact that Lambsdorf heads the German-Israeli Parliamentary Friendship Committee.
The tweet mentioned that the dinner was also attended by a number of fellow sovereign, reformist, and change-making MPs.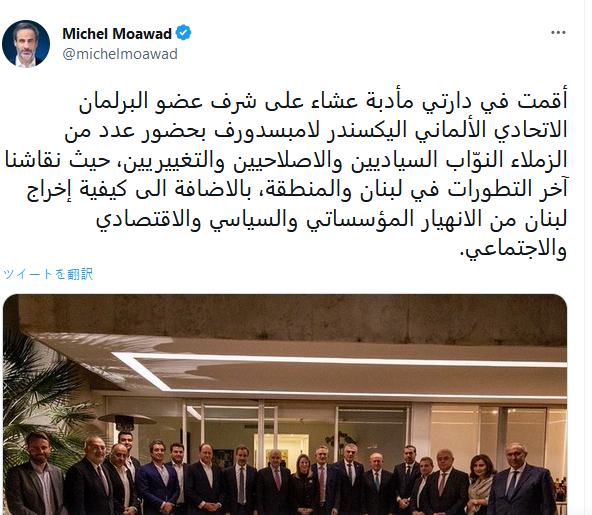 We discussed the latest developments in Lebanon and the region, Moawwad said, adding that the meeting also tackled how to get Lebanon out of its institutional, political, economic, and social collapse.

It is worth noting that Lambsdorf (labelled in the pic below as he stands next to MP Moawwad) is known for his fanatic stances in favor of the Israeli enemy, and honoring him is considered as an approval of those positions.

Moawwad is running for presidency in the country of the Resistance which has sacrificed thousands of martyrs in the fight against the Israeli occupation and the terrorist invasion. So, how could he preside over the state without respecting those sacrifices.
Hezbollah Secretary General Sayyed Hasan Nasrallah stressed that Hezbollah wants the new president to be able to protect the national strengths, led by the Resistance, noting that this is a strategic issue related to that national security.
Source: Al-Manar English Website