After an armed clash described as "the most violent and the longest" with the Israeli occupation forces, the two commanders of the Al-Quds Brigades, were martyred, and the two martyrs knew the path of resistance early in the Jenin camp.
Medical sources at the Ibn Sina Hospital reported that two Palestinian men, Naim Jamal al-Zubaidi, 27 years old, and Muhammad Ayman al-Saadi, 26 years old, were killed by the occupation bullets, and another was wounded by shrapnel.
During the raid, the IOF deployed snipers on a number of rooftops as they targeted Palestinians who attempted to protect their homes, city, and camp.
Following the exit of the IOF from Jenin, masses marched from Ibn Sina Hospital, as they carried the two martyrs on their shoulders, roamed the streets of Jenin and its camp, and chanted slogans condemning the crimes of the occupation, calling for international protection for the Palestinian people, and the need to strengthen national unity.
تغطية صحفية: "جماهير غفيرة تحمل جثماني الشابين محمد السعدي ونعيم الزبيدي اللذين ارتقيا خلال اشتباكات مع الاحتلال في مخيم جنين". pic.twitter.com/t7NZbHcTAS

— شبكة قدس الإخبارية (@qudsn) December 1, 2022
As for the arrested youth, two of them have been identified as Wissam Fayed and Omar Nasser Talib. The IOF surrounded their homes in Jenin and arrested them.
Similarly, the other two arrested Palestinians were apprehended by a special ops unit in the IOF which infiltrated the Jenin camp.  Khaled Arrawi and Ahmed al-Sous were chased while on their motorcycle as they attempted to escape a targeted IOF arrest.
The Fatah movement, alongside other national and Islamic forces in Jenin, declared a comprehensive strike to denounce the occupation's continuing crimes against the Palestinian people.
It is worth noting that with the martyrdom of al-Zubaidi and al-Saadi, the death toll since the beginning of 2022 has risen to 210, including 158 martyrs in the West Bank and 52 martyrs in the Gaza Strip.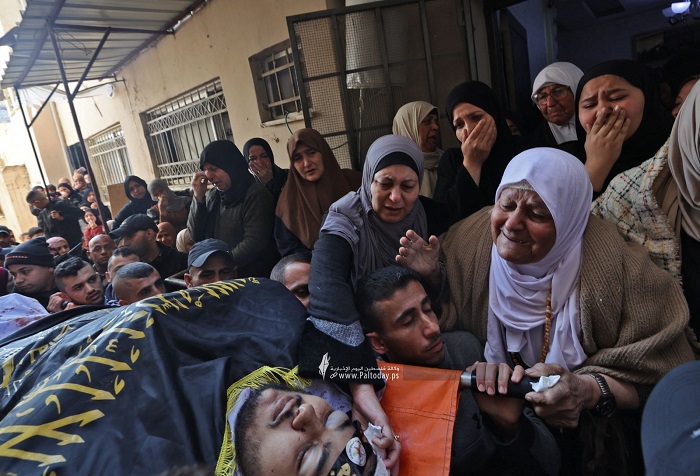 A spokesperson for the Palestinian Islamic Jihad, Tariq Ezz El-Din, warned that "the massacre committed by the occupation against our people in Jenin will not go unnoticed."
Source: Agencies (edited by Al-Manar English Website)