Lebanese President Michel Aoun on Friday received at Baabda Presidential Palace German Foreign Minister, Frank-Walter Steinmeier.
Aoun, described the Leban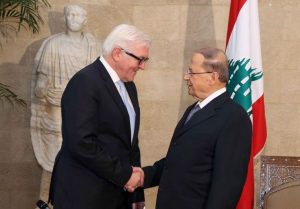 ese German relations as excellent "because both countries work for the sake of accomplishing peace in the Middle East through adopting fair political solutions."
President Aoun saw positivity in any attempt to improve the relations between Germany and any country concerned about the conflicts in the region.
President Aoun also received the Turkish Foreign Minister Mevlut Cavusoglu, expressing Lebanon's desire to set best relations with Turkey, in terms of working together to find political solution in Syria and fighting terror.
The foreign diplomats also visited the House Speaker Nabih Berri, Caretaker PM Tammam Salam and PM-designate Saad Al-Hariri and the Lebanese FM Gebran Bassil, stressing their support to Lebanon's security and stability.
Source: NNA