Yemeni armed forces on Thursday unveiled new and strategic weapons in a large-scale military parade marking the ninth anniversary of the 21 September Revolution, which saw the allied forces takeover the capital Sanaa in 2014.
The parade, the largest since September 2014, was attended by the Head of the Supreme Political Council Mahdi Al-Mashat along with the country's speaker, prime minister, head of judicial council, ministers, lawmakers and other senior officials, local media reported.
The procession started as Al-Mashat arrived at the Al-Sabeen Square in Sanaa, where he laid wreath on the grave of his predecessor Saleh Al-Sammad who was assassinated in a Saudi-led coalition drone strike in April 2018.
During the parade, the Yemeni armed forces displayed advanced missile systems, naval weapons, and air defenses that have been locally developed.
For the first time since the start of the Saudi aggression in 2015, Yemeni helicopters and fighter jets flew over the capital, Sanaa.
Navy
The Yemeni Navy showcased models of naval force weapons, including boats, missiles and mines, some of which were revealed for the first time.
The Yemeni Navy also unveiled a winged cruise missile, "Sejil", with a range of 180 km and powered by solid fuel engine. The missile is characterized by accuracy with a warhead weighing 100 kg, and can hit any target in the Red Sea, Yemeni media reported.
A locally made "Nazir" boat was also disclosed during the parade. It is a combat boat with the ability to maneuver and carries medium weapons and air defense. The "Nazir" boat has multiple combat missions, including intercepting mobile naval targets, storming ships, and raiding islands.
Air Force
Meanwhile, the Yemeni Air Force displayed a number of detection and tracking systems, including Barq-2, a surface-to-air missile with a range of 70 km and a height of 20 km, and Saqr-2 a surface-to-air missile with a range of 150 km and a height of 10 km.
Both Barq-2 and Saqr-2 missiles have high-explosive warheads. The Barq-2 missile is used to confront close, medium, armed and unarmed reconnaissance and military targets, while the "Saqr-2" missile is used to confront all types of reconnaissance aircraft and cruise missiles.
Models of the Air Force's reconnaissance and combat drones were also showcased, including Rujum, Rasid, Qasef-2K, Shehab, Mirsad -2, Khatif-2, Raqeeb, Waeed -1, Waeed-2, Sammad-1, Sammad-2 and Sammad-3.
Missile Force
The Yemeni Missile Force, for its part, displayed models of surface-to-surface missiles, some of them were unveiled for the first time, including Badr-4, Quds-4, Aqeel, Tofan, Muyoun, Tankeel, Mutee, and Quds Z-0.
Houthi: We Confronted Aggression
Abdul Malik al-Houthi, the leader of the Ansarullah movement, delivered a significant address on the occasion wherein he critiqued American policies and underscored Yemen's unwavering resolve in the face of adversity.
He expressed his concerns about American policies, which he believes have propelled Yemen towards collapse while exploiting the internal divisions. Houthi particularly highlighted the actions of the Arab League coalition, which had occupied substantial portions of Yemen and persisted in actions detrimental to the nation's unity. These actions included mobilizing extremist elements and mercenaries against Yemeni citizens and tribes.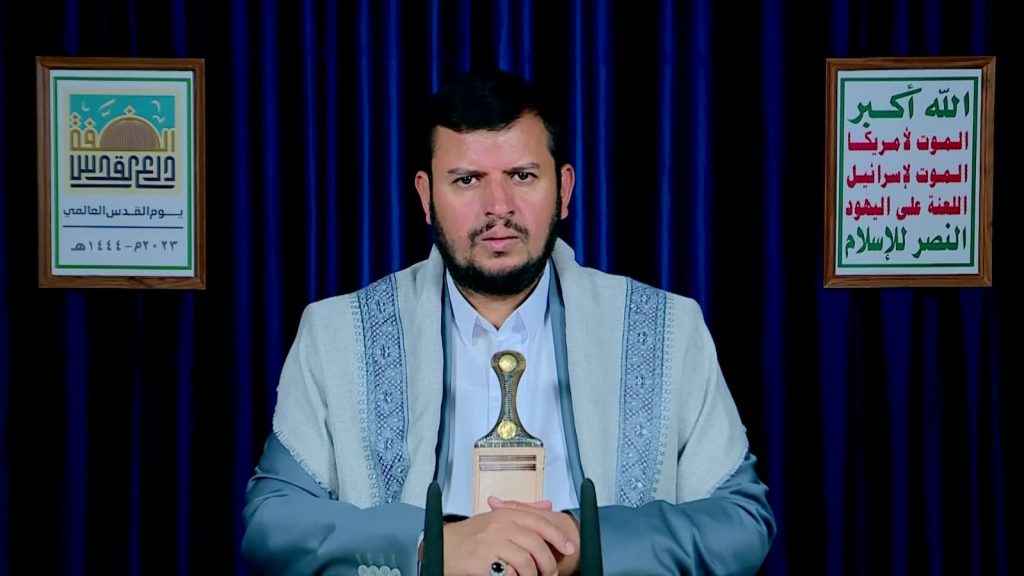 "Our resilient people valiantly confronted this aggression," al-Houthi declared, emphasizing that they did not falter in the face of adversity. He praised the Yemeni populace for channelling their determination into building military capabilities, creating a formidable deterrent force capable of targeting the aggressors' critical installations.
In light of the severe blockade imposed on Yemen, al-Houthi noted a significant shift towards the domestic production of various weapons and military necessities, ranging from small arms to missiles. This counterproductive result, he argued, contradicted the coalition's stated objectives. Furthermore, he decried the enemy's economic conspiracies, which involved destroying factories and manipulating gas fields, causing dire consequences for Yemen's national currency.
Al-Houthi's address underscored Yemen's enduring spirit and resilience in the face of external pressures and aggression, emphasizing the nation's commitment to self-reliance and defense in the midst of challenging circumstances.
Source: Al-Manar English Website and Yemeni media