Hezbollah declared on Sunday several strikes on an Israeli post and a settlement near the border with Lebanon, in retaliation for the aggression on Lebanon which killed three Lebanese in the last two days.
In five statements, Hezbollah's Islamic Resistance declared firing guided missiles, among other weapons, at Israeli settlement of Shtula, Al-Raheb, and other Israeli military sites near the border with Lebanon.
In the first statement, the Islamic Resistance announced striking an Israeli post in Shtula settlement with guided missiles, inflicting losses upon Israelis.
"As part of retaliation to Israeli aggression… Unit of martyrs Ali Youssef Alaaddine and Hussein Kamal Al-Masri targeted an Israeli enemy post in Shtula settlement with guided missiles on Sunday," the statement, obtained by Al-Manar read.
Israeli media confirmed the strike on Shtula, reporting that at least an Israeli was killed and four others were injured.
Hezbollah's second statement said the Islamic Resistance Mujahideen (fighters) attacked the Zionist post of Al-Raheb "with direct and appropriate weapons, in response to the Israeli brazen aggression on the Lebanese border towns."
A third statement by the Lebanese resistance party declared that a guided missile directly hit an Israeli Merkava at Al-Raheb site, noting that its crew members were killed or injured.
Israeli media quoted occupation military as confirming that "its soldiers stationed in northern Israel were fired upon," according to i24NEWS.
Al-Manar correspondent in south Lebanon reported heavy Israeli shelling of the Lebanese border towns of Ayta Al-Shaab and Ramya.
Videos circulated on social media showed Israeli shelling of Ayta Al-Shaab.
بالفيديو | القصف المدفعي الصهيوني الكثيف متواصل على أطراف بلدة عيتا الشعب #جنوب_لبنان pic.twitter.com/qneUDLERXT

— قناة المنار (@TVManar1) October 15, 2023
Later in the day, Hezbollah issued another statement which said: "As a response to the tragic incidents involving the killing and injuring of journalists in Alma al-Shaab and civilians in Shebaa, the Mujahideen of the Islamic Resistance carried out an attack this afternoon, on Sunday, October 15, 2023. They targeted the Zionist Hanita barracks with precision-guided missiles, resulting in the damage of two Merkava tanks and a tracked personnel carrier. This action also caused significant casualties and injuries among the enemy army's personnel."
The last statement by Hezbollah read: The Mujahideen of the Islamic Resistance launched an attack on five Zionist border sites, namely Jal Al-Alam, Birkat Risha, Ramya Site, Al-Manara Site, and Al-Abad Site, utilizing precise and effective weaponry.
Israeli Army Isolates Border Area
Meanwhile, Israeli occupation army declared it was "isolating the area" of up to 4 kilometers (2.5 miles) from the Lebanon border," instructing settlers not to enter.
The occupation military added in a statement cited by The Times of Israel that it "stresses that entering the area is strictly prohibited and asks the public to be vigilant and not enter the area."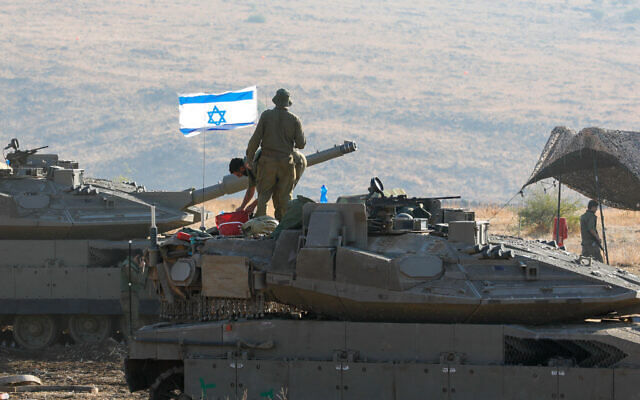 Furthermore, the statement ordered Israelis in the settlements up to 2 kilometers from the Lebanon border "to remain close to bomb shelters until further notice."
Earlier on Friday, Israeli shelling of the border area between Lebanon and the Palestinian occupied terriotries claimed life of Reuters' Lebanese journalist Issam Abdallah and the injury of at least three others.
Later on Saturday, another Israeli attack on Shebaa Farms killed two Lebanese elderlies as the shelling targeted their house.
Source: Al-Manar English Website