Two unmanned aerial vehicles (UAVs) used by a Saudi-led coalition for espionage activities have been downed in Yemen, as revolutionary forces confronting the aggression unveiled its first ever homegrown drone.
Military sources said the two intruding spy drones were shot down by the Yemeni army's air defense forces on Sunday, the Arabic language al-Masirah news network reported.
The sources said the first drone was targeted by the air defense forces in al-Aqaba area in Jawf province while the second one came down in al-Fariza military base in Jizan province.
It came two days after al-Masirah reported that a Jordanian F-16 warplane had been shot down by the 'anti-aircraft defenses' of Yemen.
Saudi media, however, claimed that the fighter jet crashed due to 'technical reasons'.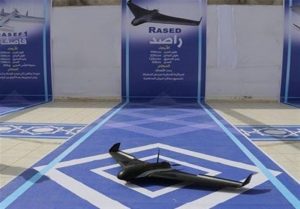 Meanwhile on Sunday, Yemen's Supreme Political Council unveiled the Arab country's first ever indigenous drone, a report said.
According to the report carried by Yemen's official Saba news agency, the homegrown drone, named "Rased (observer)", was shown to the public for the first time during Yemen's Drone Exhibition underway in the Arab country.
Saleh al-Samad, the head of the Arab country's Supreme Political Council, attended the unveiling ceremony, the report added.
Yemen has been under an aggression by Saudi-led coalition since March 2015. The brutal aggression has killed and injured tens of thousands of Yemenis, the vast majority of them were civilians.
Yemen ports and airports have been also under a blockade imposed by the Saudi-led coalition, which also includes UAE, Kuwait, Qatar and Bahrain.
Source: Yemeni media