Head of Loyalty to Resistance parliamentary bloc, Hajj Mohammad Raad, called for a speedy cabinet formation in Lebanon to address the socioeconomic crisis storming Lebanon, underling Hezbollah readiness to cooperate with the allies and the various parties which intend to face the calamity.
Addressing crowded Hezbollah Rally on Muharram 13 in Nabatieh city, MP Raad underscored the importance of committing to Ashura teachings.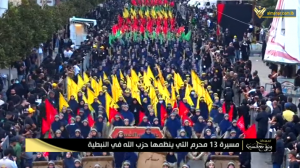 MP Raad noted that the Islamic Resistance will remain ready to confront any Zionist infringement on the Lebanese borders and rights, adding that the Israeli response to the Lebanese demands expected to be conveyed soon by the US mediator will identify the eventual course of incidents.
MP Raad also greeted the Palestinian people and resistance that face the Zionist aggression on Gaza, greeting the souls of the martyrs, especially Al-Jabari, Mansour and Al-Nabulsi.
Source: Al-Manar English Website