The photos below show positions controlled by Nusra Front Takfiri militants before their defeat in Wadi Hmayyed in Arsal outskirts following a wide-scale operation by Hezbollah fighters.
The photos, released by Hezbollah Military Media Center, show a swimming pool known as "Abu Malek's pool," referring to the name of Nusra Front's Emir in Arsal outskirts, Abu Malek Al-Talli.
Al-Talli was evacuated, along with his militants and thousands of Syrian refugees, to Syria's Idlib under a swap deal with the Lebanese resistance movement last week.
Five Hezbollah fighters who were held by Nusra terrorists in Syria were released as part of the deal.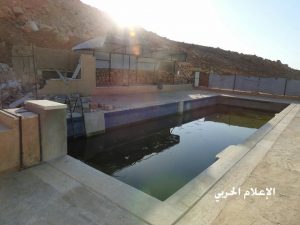 Source: Hezbollah War Media Center