Polling stations opened in Iran early on Friday for the 12th presidential and the fifth city and village council elections, with high turnout recorded in the first hours of the vote.
About 63,500 polling stations are open from 8am until 7pm local time (3:30am to 2:30pm GMT) although authorities have announced that the time could be extended if necessary.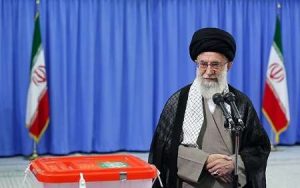 Leader of the Islamic Revolution in Iran, Imam Sayyed Ali Khamenei cast ballot, stressing that the vote is very important since the fate of the nation and electing the head of the executive power is in the hand of all individuals from all walks of life, IRNA news agency reported.
"I advise people to have a broader participation and come to the polls as soon as possible," the Leader said.
"I believe the presidential election is vital and I call on the Iranian people to pay heed to the importance of the event," his eminence added.
The candidates in the presidential competition are incumbent President Hassan Rouhani, the Custodian of Imam Reza (AS) Holy shrine Ebrahim Raeisi and former
minister of Culture and Islamic Guidance Mostafa Aqa Mirsalim and former Minister of Physical Education Mostafa Hashemi Taba.
First Vice-President Eshaq Jahangiri and Mayor of Tehran, Mohammad Baqer Qalibaf were other presidential candidates who quitted the presidential race to support their favorite candidates (Rouhani and Raeisi respectively).
IRNA also reported that Rouhani and Foreign Minister Mohamamd Javad Zarif cast their votes.
Rouhani said that huge turnout of people in the ongoing local and presidential elections will strengthen national authority and security.
"Massive turnout of people paves the way of progress for the country,' he told reporters after casting his ballot.
The Iranian presidential election is also to be held in 310 polling stations in 102 countries, including US, UAE, Iraq and Britain, Head of the Supervisory Board of the Presidential Elections Abroad Hassan Qashqavi said.
Source: Iranian media